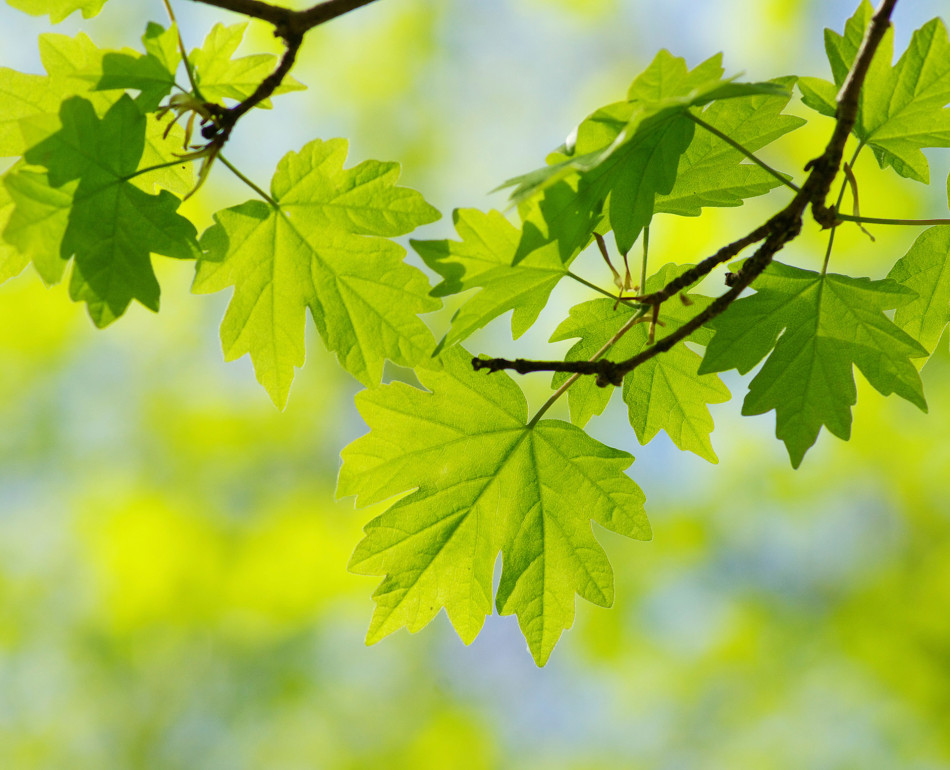 Explore Our Trees
Explore Utica's
Tree Canopy
The tree canopy and urban forests in Utica's parks are diverse. Learn more about the trees that can be found in our parks, and how Utica's trees help green our local environment.
American Basswood
This tree is native to the Chicago area and is often used to create dense, shaded areas. The basswood can be as tall as 80 feet, preferring full or partial sun. Songbirds and blue jays flock to this tree for its seeds and shelter.
American Beech
This tree is a slow grower that can reach heights of 50 to 70 feet and it does well in our climate zone. The American beech is both ornamental and great for shade, developing a dense tree canopy with golden bronze colors in the fall.
American Elm
With leaves that go from bright green to gold from spring to fall, elms are revered as one of the most popular trees dating back to the 19th century. This stately species was ravaged by Dutch elm disease, but now other related species and hybrids that are more resistant to the disease are available to plant.
Bitternut Hickory
This large North American native tree is best for large landscapes. A member of the walnut family, this tree drops debris from its fruit in the summer and throughout the fall. Maturing at a height between 50 and 70 feet, this tree was originally native to Chicago, but is found throughout the northeast.
Black Cherry
With abundant spring blooms, the black cherry continues to have rich foliage through summer and fall. After it flowers in spring, this tree produces clusters of red berries that eventually change to a purple so dark it looks black, hence the name. These trees can have a mature height between 50 and 80 feet.
Black Locust (Invasive)
The black locust has acquired a reputation as being invasive. This tree is an aggressive spreading tree, but is also a favorite for pollinators with large clusters of fragrant white flowers that bloom in spring. Take care if planting this medium-sized tree that grows between 25 to 40 feet tall.
Boxelder
The boxelder is part of the maple tree family. Even though this tree is a medium-sized, cold-hardy tree, the boxelder can be on the invasive side, as it is able to self-seed quite easily and is an aggressive growth tree.
Eastern Hemlock
A tree that tolerates a lot of shade, the eastern hemlock is part of the pine family and can be grown as a tree or shrub. With evergreen foliage year-round, the eastern hemlock is often used for privacy. As a tree, it can reach heights of 40 feet.
Ironwood
This tree is as strong as its name implies. Its leaves look similar to birch leaves but have hop-like fruits. The grayish-brown flaky bark makes this a beautiful tree for parks or natural landscapes. The ironwood is also resistant to many disease and insect issues that plague other trees.
Northern Catalpa
If you're looking for a lot of visual features, this tree is for you. With white flowers, heart-shaped leaves, dangling seed pods, and a twisting trunk and branches, the northern catalpa is a sight to behold. This hardy tree is a fast grower and does well in our climate zone, preferring full to partial sun and its flowers are favorited among hummingbirds.
Norway Maple (Invasive)
The Norway maple has become invasive due to its tolerance of many different growing environments, shallow roots that prevent grass and other plants or shrubs to grow, and deciduous nature, shedding a large amount of seeds that then produce additional Norway maples.
Pin Oak
A fast grower with a pyramid-like shape as it grows, this tree can shoot up to 70 feet and can tolerate wet soil, but prefers full sun. Its dark, glossy green leaves turn bronze, red, or russet in the fall. The pin oak acorns are a favorite snack for songbirds, wild turkeys, white-tailed deer, squirrels, and ducks.
Red Maple
Recognized for its vibrant red and yellow leaves in fall, the red maple is fast growing and tolerates many soil conditions. Growing from 40 to 60 feet, this tree can also spread 40 feet wide, which makes them best for larger yards with acreage, or park spaces.
Silver Maple
A fast-growing tree, the silver maple's leaves are green on top and silver-white on the underside. These trees have a large root system, so it is best to plant them 10 feet or more from sidewalks, driveways, foundations, or sewer lines. They can grow as tall as 80 feet and are common to the northeast area of the United States.
Sugar Maple
One of the most popular and loved trees in America, this is the state tree for New York. With brilliant fall colors in shades of orange, red, and yellow, the sugar maple can grow to be 60 to 75 feet tall. Our wildlife friends love these trees too — they are commonly browsed by white-tailed deer, moose, and snowshoe hare, while squirrels feast on the seeds, buds, twigs, and leaves!
White Ash
This tree is common to parks and large yards throughout North America. Fall foliage ranges from yellows to deep purples and maroons. The wood from the white ash is also used to make baseball bats. Growing to a height of 50 to 80 feet, this tree is great for shade, with a canopy spread that can block sunlight while adding beauty to its landscape.
Yellow Birch
This tree is distinguished by its silver and bronze bark that tends to peel off into strips. A large tree that can grow in excess of 40 feet, this tree is a vibrant green throughout spring and summer before it turns a nice fall yellow.